If you're new to Lazer Telecom, get 3 months of Netflix, Apple TV +, or Spotify Premium on us, when signing up to one of our bundles!
Make sure you have super fast internet speeds at home to be able to do all the things you love. Stay connected with your family, make home schooling and working from home possible, be up to date with the latest news, and keep yourself entertained with the latest movies, games and happy music to help you get through lockdown!
At Lazer Telecom we can make all those things possible, simply choose one of our bundles with speeds up to 1Gbps and refer to the Entertainment Offer when submitting the application form, we will take care of the rest.
For more information, contact us on marketing@lazerspeed.com, or call our friendly support team on +351 289 396 055.
T&C's Apply. Offer subject to location survey. Subject to a 24-month contract. You can only choose one source of entertainment, Netflix, Apple TV +, or Spotify Premium. You will receive an online gift card once connected to Lazer, worth 3 months of your preferred source of entertainment.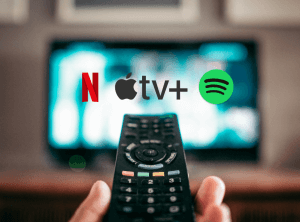 Lazer installs in selected neighbourhoods in the Algarve region. Deploying infrastructure can be disruptive so we regularly communicate the roll-out schedule and progress updates to residents.
Please be sure to show your interest in the fibre roll-out in your area to get added to our database so that we can provide you with project updates and important information.