Fibre is the fastest and most reliable internet technology available. Allowing you to access the internet at extremely high speeds, you'll be able to browse, stream, game, video call and more!
If you need internet that is reliable, fast and able to manage multiple devices at once without any hassle, LAZER Fibre Internet is the choice for you.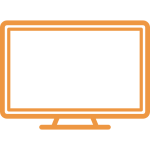 Lazer Telecom pioneered Fibre-to-the-Home (FTTH) in southern Portugal and has since connected hundreds of homes and businesses across the Algarve region to world-class broadband internet.
Lazer installs in selected neighbourhoods in the Algarve region. Deploying infrastructure can be disruptive so we regularly communicate the roll-out schedule and progress updates to residents. Please be sure to show your interest in the fibre roll-out in your area to get added to our database so that we can provide you with project updates and important information.