Home Monitoring
- HomeOK
Safety and security for what matters!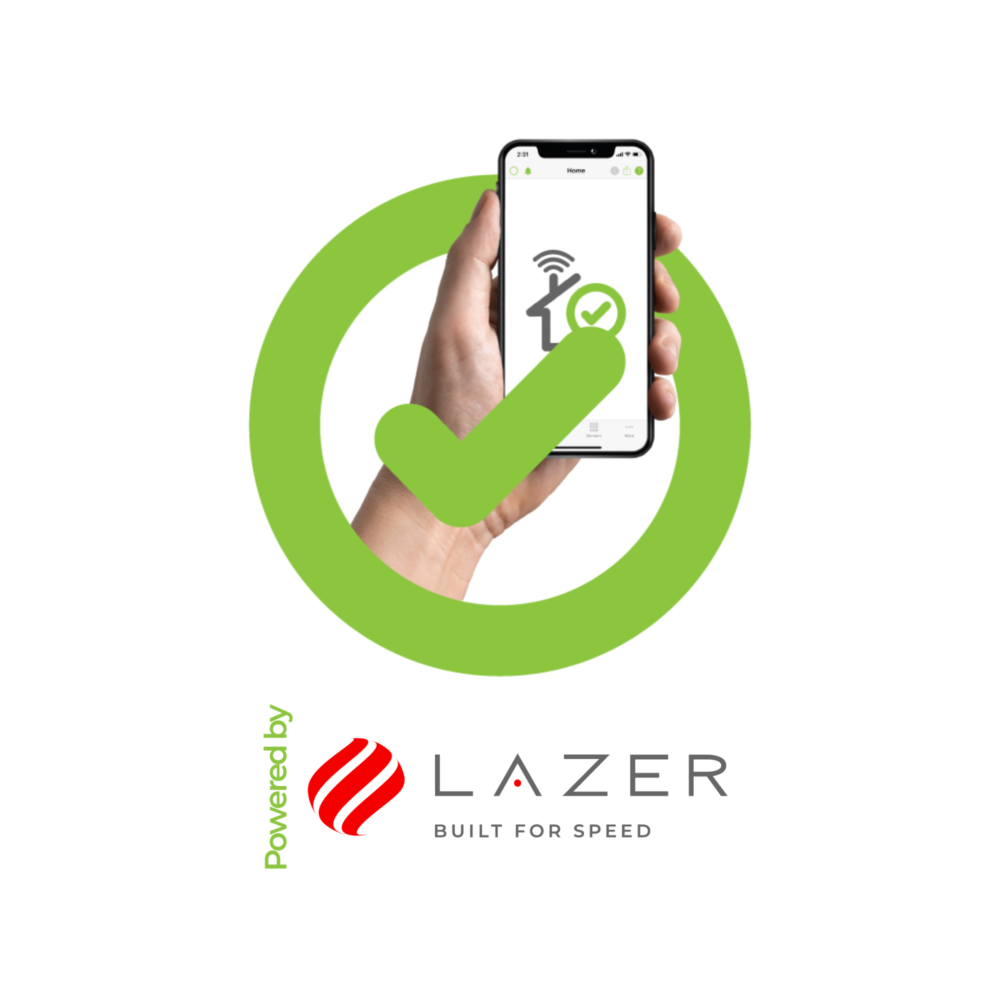 Monitor what matters with Lazer-HomeOK!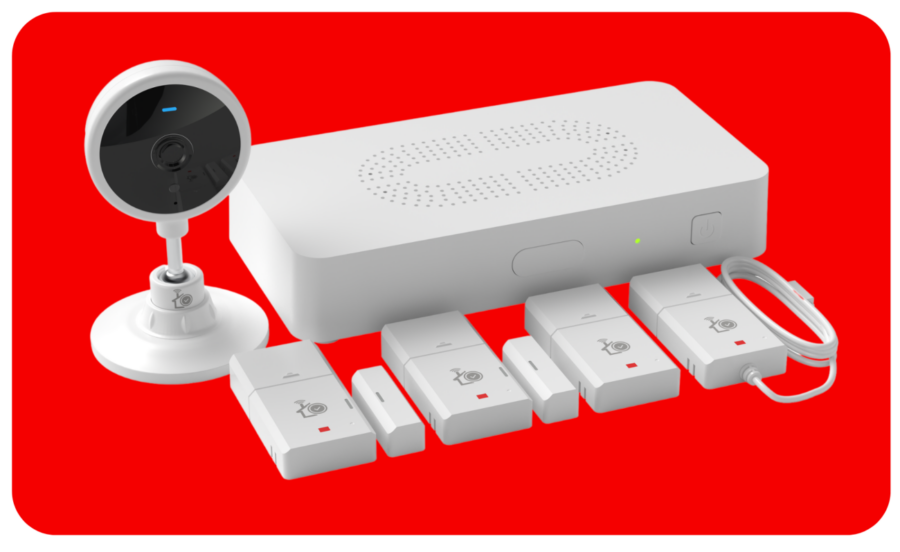 The Lazer-HomeOK system provides you with a 24/7 smart monitoring service to keep what matters safe and sound. It is the perfect solution for indoor and outdoor monitoring, helping you secure your home from anywhere, at any time.

Keep an eye on every room, door and window to protect your home against intruders, fires, water damage, and more, thanks to its AI technology that gives you full control.

And have the peace of mind that, if something happens, you will get instant notifications to your smartphone, so you can contact emergency services exactly when you need them!

*The purchase option is subject to a €12,99 monthly fee to access the HomeOK App and customer service.
Stay in control of your home and keep an eye on the things that matter with a HomeOK Service kit. Equipped with five indoor sensors, the kits enables you to monitor what matters with 24/7 AI technology. Additionally, with the HomeOK App, you get instant notifications to your smartphone and enjoy an installation that is as easy as 1-2-3.
Meet the Lazer-HomeOK ecosystem!
Browse through the Lazer-Home devices below, or contact our friendly team to get advice about how our smart home solution can help you secure your home. Additionally, if you don't want to commit to fully purchasing one of our kits, you can always loan it for a monthly fee.
Each HomeOK service kit includes: 1x HomeOK Edge AI Gateway, 2x Door/Window Sensors, 1x Indoor Camera, 1x Motion Sensor, 1x Water Leak Sensor, 1x Temperature Sensor.
Additional devices can be purchased separately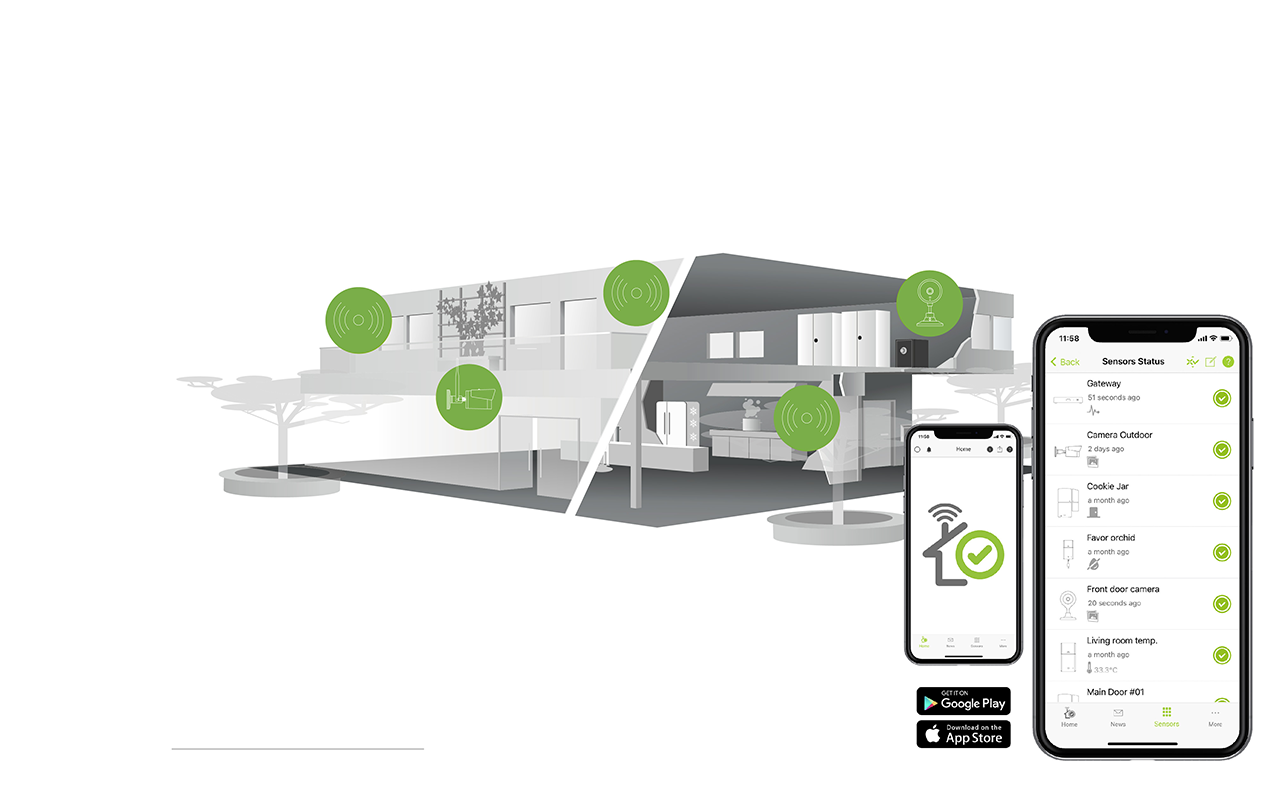 HomeOK App
With the HomeOK App, having peace of mind no matter where you are is as easy as 1-2-3! Get instant notifications directly to your smartphone, so you know when things at home are OK or NOT OK. All data is end-to-end encrypted, meaning it is only accessible by you or the people you choose, and cannot be intercepted.
Instant notifications to your smartphone
Simplified device setup
Peace of mind, anywhere, anytime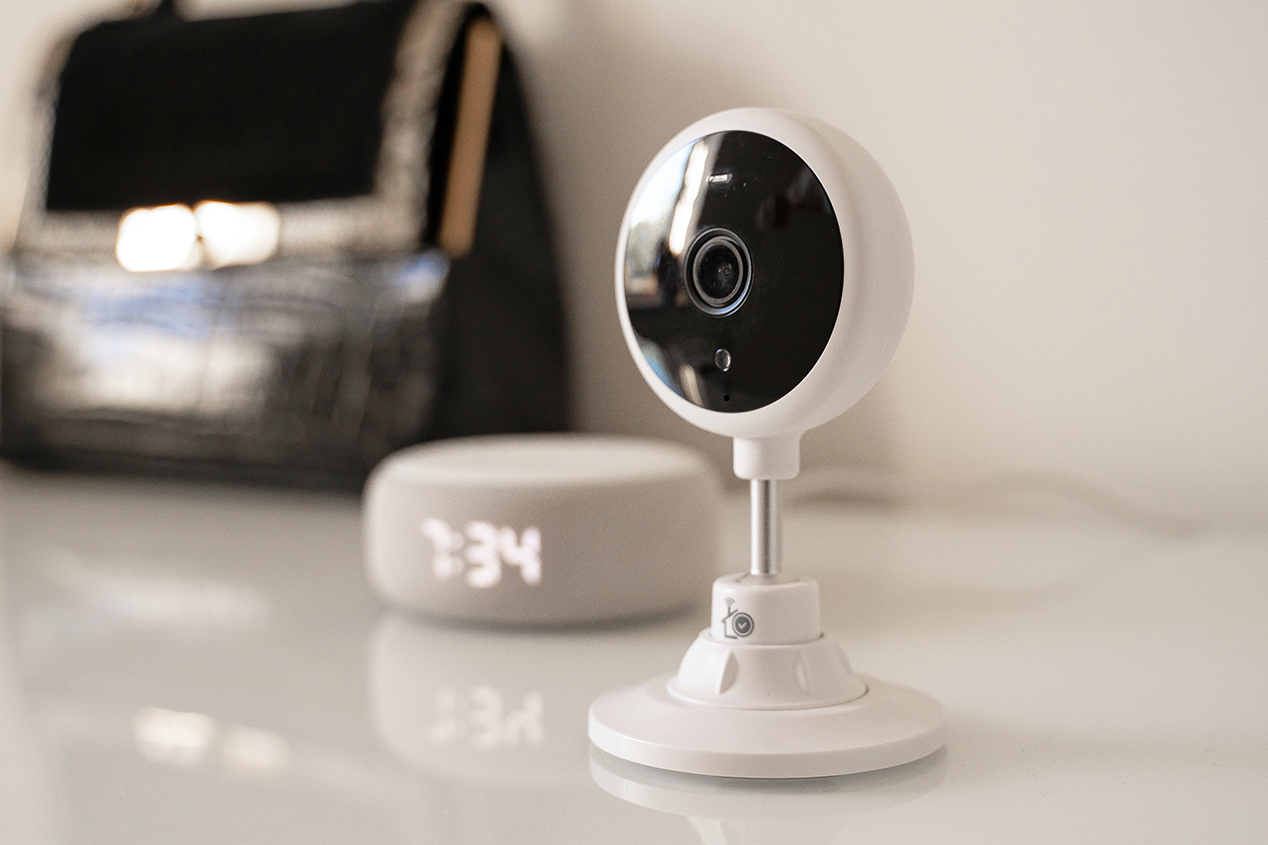 Indoor Camera
The Indoor Camera records objects in a 97-degree view and captures images using snapshot technology, which recognizes unimportant images and filters them out, so you don't have to spend precious time browsing through them. All relevant images are transmitted securely to your smartphone, and encrypted for viewing via the HomeOK App.
Next-generation intelligent camera
Snapshot technology to maximize performance and security
Intelligent built-in microphone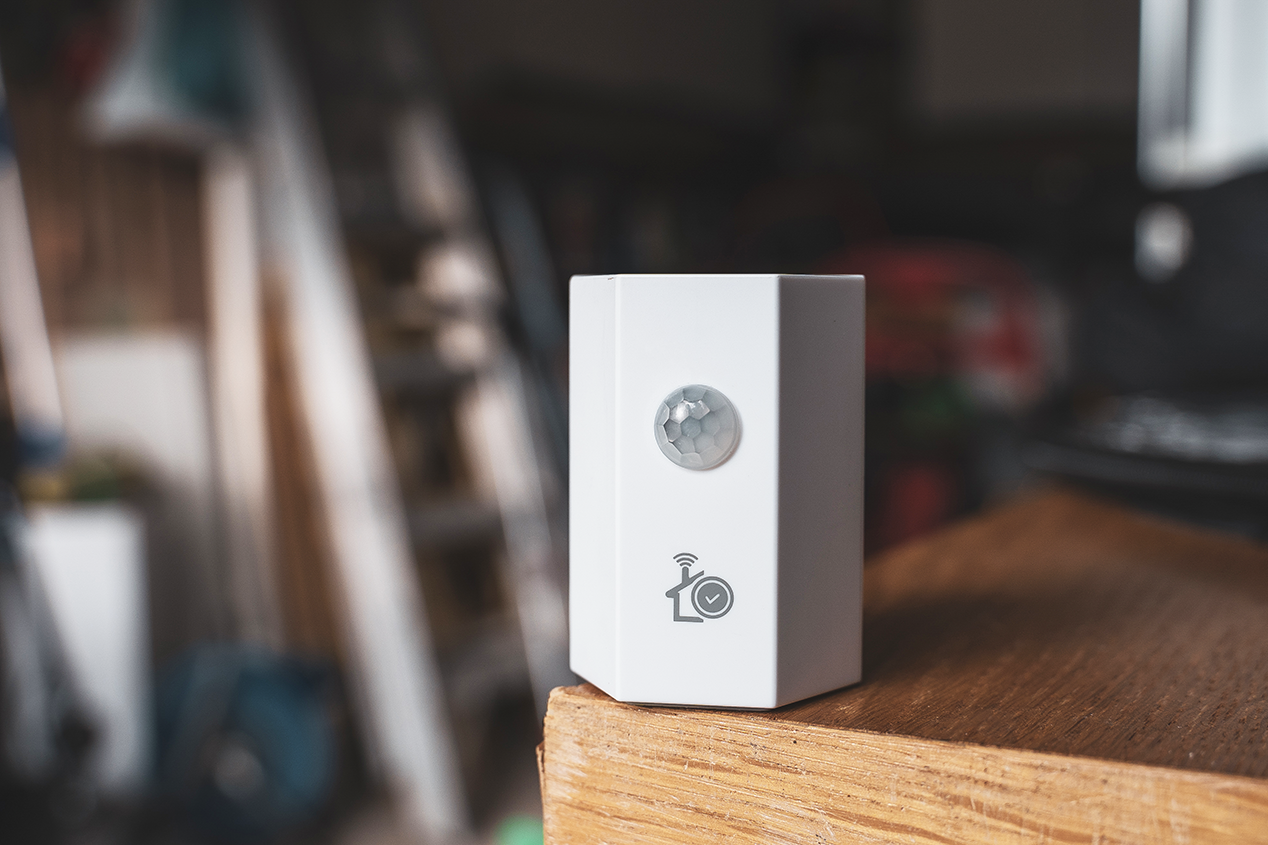 Motion Sensor
The wireless, sensitive motion sensor reliably detects movements using a built-in passive infrared detector. Track any movement when you're not at home, even when it's dark! This way you can have peace of mind in knowing that your home is safe from any attempted break-ins, and you will be alerted of it no matter where you are.
Powerful infrared sensor
Indoor/Outdoor mounting options
Instant notifications to your smartphone
Door & Window Sensor
Monitor doors and windows to make sure you never forget to close them, and get instant warnings if someone unexpectedly enters your home. You'll have peace of mind in knowing that you will be alerted via the HomeOK App when a door or window is opened, helping you react appropriately.
Open/close monitoring
Simple setup and installation
Long battery life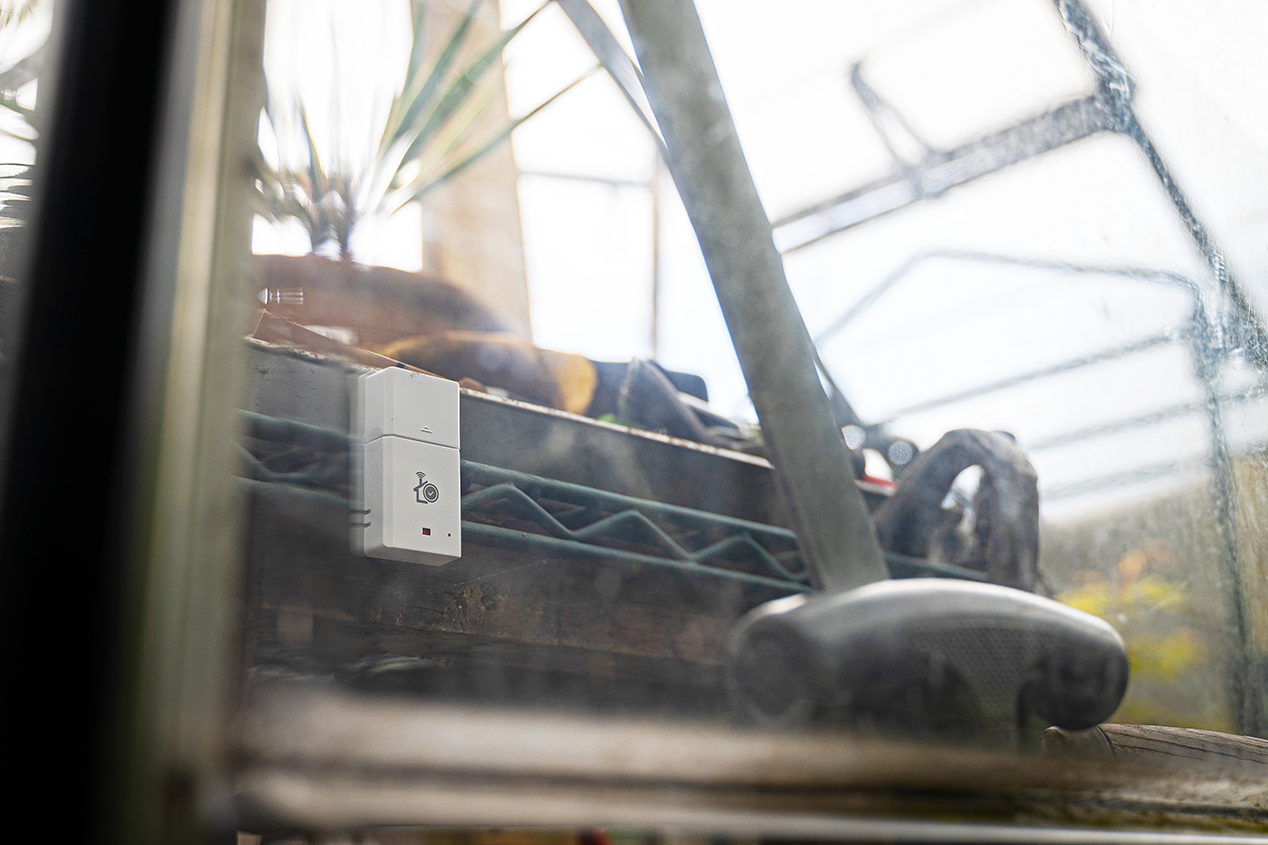 Temperature Sensor
Keep an eye on delicate things by quickly and reliably monitoring the temperature in specific areas, and be notified if it exceeds or drops below a given range. With this sensor, you can make sure that the ambient temperature in your greenhouse is the right one for your plants, or for the precious wines in your cellar.
Reliable temperature measurements
Instant notifications upon drastic temperature changes
Long battery life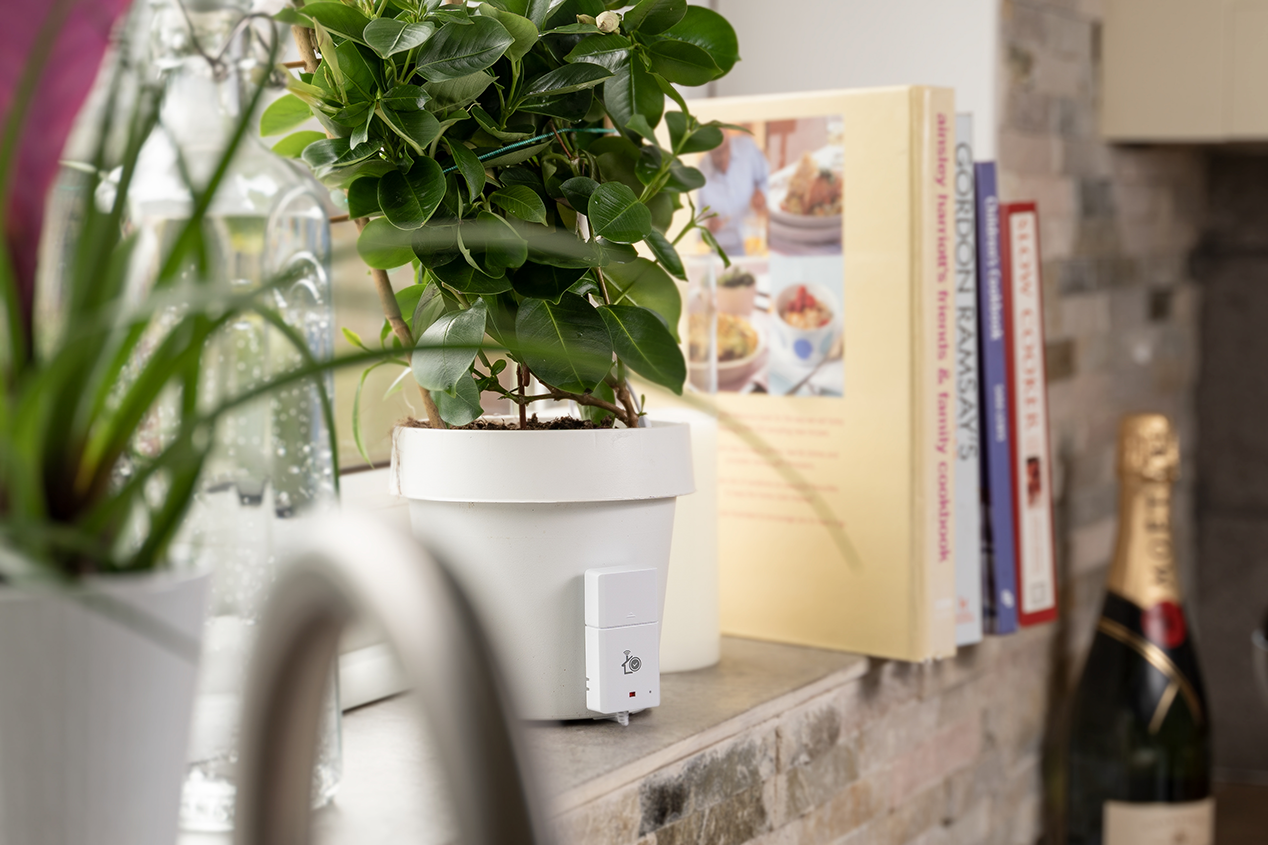 Water Sensor
Protect your home from water damage, keep an eye on your plants, fish tank, washing machine, and much more. Thanks to its built-in probe, the Water Sensor takes care of detecting any unexpected leaks in tight spaces or if things are drying up, and immediately lets you know about it.
Two types of water detection
Built-in probe to monitor tight spaces
Long battery life